VRScheduler organizes your tasks, employees, vendors, issues and property workflow so you have a
central source of truth.
Instead of having stuff scattered all over the place - strewn across separate spreadsheets, text messages, lost in inboxes - VRScheduler brings everything in your company's operational workflow and turn days under one roof.
Instead of sorting through post-its on your monitor...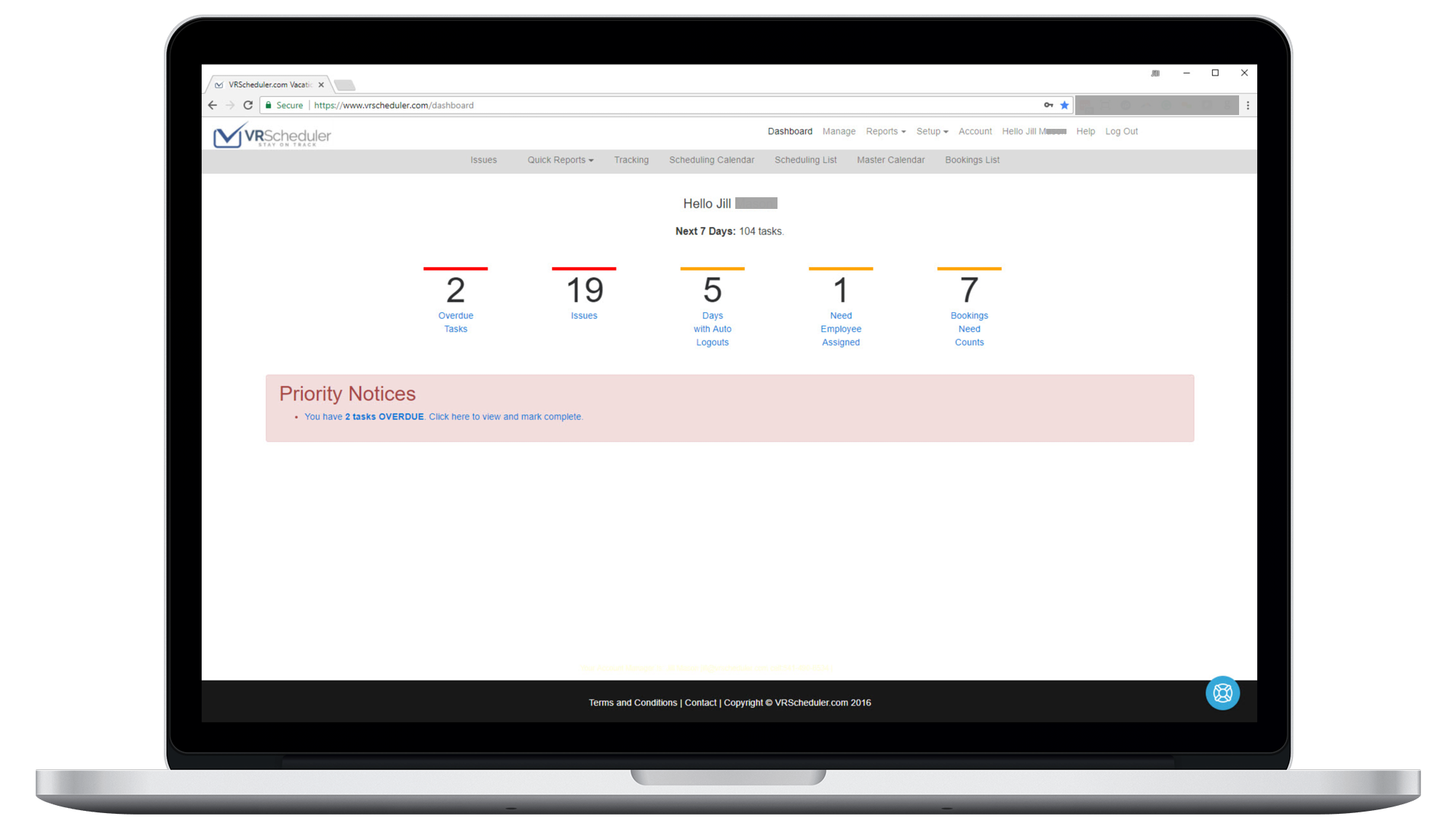 Your Dashboard
will quickly let you know your day's most important tasks.
Instead of clicking through multiple screens and spreadsheets...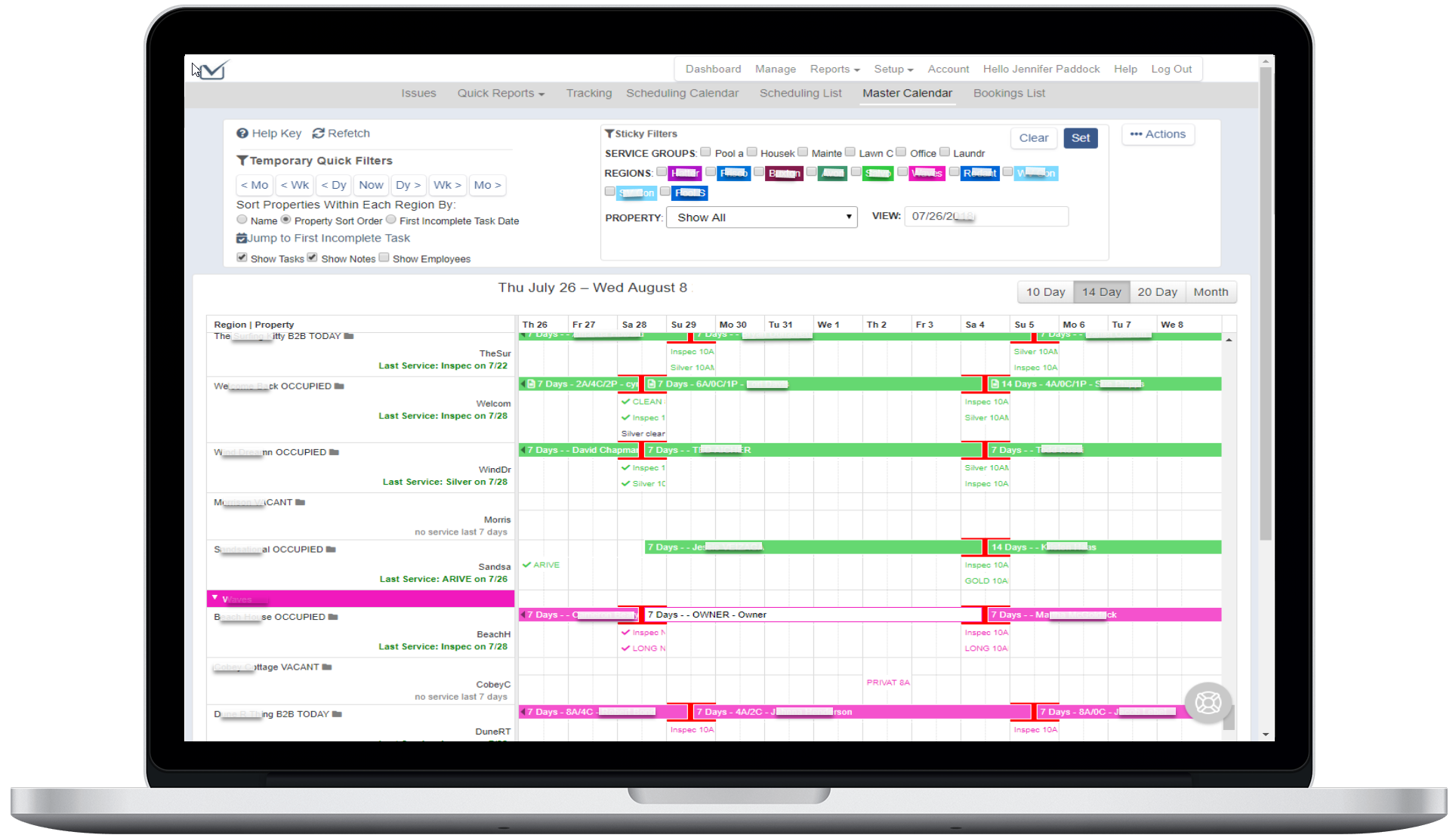 Your Master Calendar
will give you a 10,000ft view of everything that is happening across all your properties: what tasks are scheduled, who is assigned, task status', property status', vendor completed tasks, booking dates, guest counts and more. Easily pull up appliance, HVAC and utility information on each property.
Instead of copying check in and check out dates to a messy scheduling spreadsheet...
Your drag and drop scheduling calendar
makes optimizing your staffing easy. Tasks are auto-generated onto the calendar WITHOUT ANY DATA ENTRY BY YOU. Drag a task to another employee or date to load balance. Use region color coding to minimize driving. The calendar will not let you drag tasks outside the task window. All based on rules set by you.
Instead of hard to track phone calls and texts from employees...
Employee Dashboards
are mobile friendly, track and send notes, checklists, and indicate damage, maintenance, lost and found and supply items.
Instead of issues falling through the cracks...
Issues
are tracked so that you can handle them in house, send them out to a vendor, or schedule a future task for an employee.
Instead of manually adjusting task dates and times or working around software limitations...
Task Creation Rules
are highly adjustable to maximize automation. VRScheduler has rules that accomodate things like:
Create an arrival cleaning only if the unit has been vacant for more than 3 days
Create hot tub services only if the unit has a hot tub
Create 6 month deep cleans or inventory checks
Create an inspection mid vacancy check every 7 days, starting 6 days after the last checkout and ending 5 days before the next check in.
Need a new rule? Just ask, we can most likely accomodate you!
Get Started
Request One-on-One Demo
30 day free trial. No credit card required.
Our Customers are Talking!
Every once in awhile, someone comes up with software that makes a difference in our vacation rental management world. VRScheduler is one of those products.

It relieved me of a task that has been very time intensive, and frees my time up to develop my vacation rental company. VRScheduler makes scheduling your housekeepers not only easy, but a breeze! Within just a few minutes I can set a week's schedule-I can even do it while I am traveling! And it assists in tracking damages, lost and found, and maintenance issues, while also helping to track vendor services such as hot tubs, lawn care and much more. Hands down VRScheduler is in the top five of my best technology software products in the vacation rental market. I highly recommend VRScheduler-and that you test drive it for free for 30 days!
VRScheduler has revolutionized my rental management company.

I now receive all bookings automatically directly from AirBNB and VRBO, saving me hours in scheduling. The drag and drop employee scheduling calendar allows me to create weekly schedules for my employees efficiently, while making sure properties are not overlooked. Owner and Employee dashboards keep everyone informed and happy. I am so thrilled and excited that someone took the time to create a program to specifically meet the needs of my business. I will never go back to using my paper calendar again! I highly recommend you try this program.
VRScheduler is a fantastic program

that has saved me hours of time coordinating cleaning staff, hot tub people and snow removal. It has eliminated the last minute reservations that at times have missed the cleaning. Also my staff can let me know the property has been cleaned, no damage and anything else that I might need to know. [VRScheduler] has been wonderful to work with and has made set up easy and quick. I would recommend this for anyone who needs to coordinate staff and wants to cut out hours of extra work.
Say Goodbye to Spreadsheets and Wall Calendars.
Say Hello to Modern Task
and Employee Scheduling Software Today
Get Started For Free
Schedule a One-on-One Demo
30 day free trial. No credit card required.